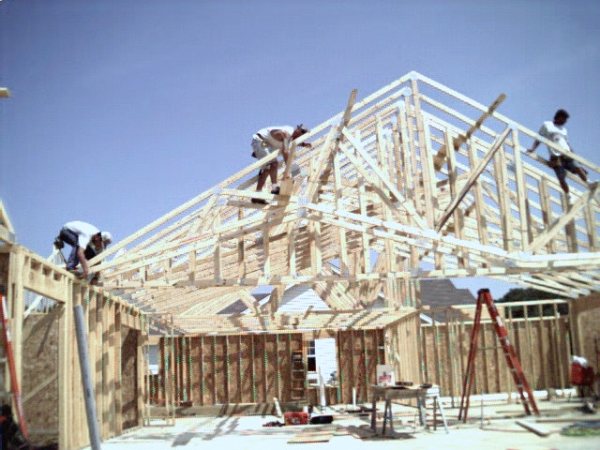 A Better Business Bureau
Consumer Information Series Publication
Remodeling your home can cost more than it does to purchase a new car. However, most consumers spend less time selecting a remodeling contractor than they do choosing a new car. If you plan to spend a great deal of money remodeling your home, you should be very selective in deciding which contractor to hire, be familiar with area building codes and standards, and work with the contractor throughout the entire home improvement project.
Planning Your Project
Before selecting a remodeling contractor, you should carefully plan your project from start to finish. For example, if your project involves a room addition, determine exactly what your needs are, how the room is to be used, and what you want the completed job to look like. It is a good idea to coordinate your color schemes and draw a simple floor plan using miniature tables and chairs to lay out the room arrangement.
Be specific in explaining to the contractor what you want, and be sure to approve any architectural plans that are involved in the remodeling job before the contractor begins the work.
Hiring A Contractor
Comparing costs before you make a financial commitment toward any home improvement project is very important. In doing so, you should solicit at least two or three bids from prospective contractors, based on the same building specfications, materials, labor, and time needed to complete the project.
Discuss the bids in detail with each contractor, making certain you understand the reasons for any variations in the prices. Do not automatically choose the lowest price. One contractor's bid may be higher because the materials to be used may be better in quality or because the work will require more time and labor.
Ask the remodeling contractor for local references and find out if the customers were actually satisfied with the contractor's work. If possible, go and inspect the completed projects.
Find out if the contractor is a member of a professional association which has standards or a code of ethics for remodelers.
Also, contact your local Better Business Bureau (BBB) or consumer affairs office to determine how long the contractor has been in business and if any complaints have been filed against the firm.
Another important matter to consider before hiring a contractor deals with insurance. Ask the contractor if the company is insured against claims covering worker's compensation, property damage, and personal liability in case of accidents. Then call to verify the contractor's insurance coverage after obtaining the name of the carrier and agency.
Finally, check with your state, county, or city housing authority to see if the contractor must meet certain licensing and/or bonding requirements in your area. If so, make sure your contractor is properly licensed and bonded.
Financing Your Project
To obtain financing for your home improvement project you may want to consider a personal or bank loan, a home equity loan, a loan from your credit union or insurance company, or a loan from a savings and loan institution. While your contractor may be able to assist you in securing the needed financing, it is important that you investigate the various sources of funding and compare the amounts, interest rates, terms, and tax considerations.
If you cannot pay for a home improvement project without a loan, it is a wise idea to put a clause in your contract with the remodeler stating that the agreement is valid only if financing is obtained.
Federal Housing Administration (FHA) loans for home improvements may be available through certain banks and other lending institutions. However, FHA requires that the lender approve any contractor arranging for this type of loan, and the agency will not guarantee the work or the contractor. Be wary of any contractor who tells you that he/she has been approved or endorsed by the FHA.
If your home improvement project is the result of damages and is covered by an insurance policy, check with your insurance company or agent to determine the extent of coverage before signing a contract to have the damages repaired.
Signing The Contract
Terms and Conditions–– All agreements and oral promises regarding the home improvement project should be put in writing to protect both you and the contractor. If you intend to do some of the work yourself or hire another contractor to do it, such terms should be written into the contract as well. The written contract should also include:

A thorough description of the work to be done, specifying all materials to be used in terms of quality, quantity, weight, color, size, or brand name;
The agreed upon starting and completion dates;
The total cost, with a breakdown of labor and material charges;
A payment schedule;
Any warranties and guarantees of workmanship;
The method for debris and material removal once the job is finished; and
Any additional information pertaining to how you want the contractor to perform, and the type of work you expect
In addition, make sure the written contract includes:
The contractor's full name;
Address;
Telephone number; and
Professional license number.
Do not sign a partial or blank contract. Read every contract clause carefully and ask any questions you may have before signing. Then, retain a copy of the contract as soon as you sign, and file it in your records.
On any home improvement job, you should expect to make a downpayment representing approximately one-third of the total contract price. Excluding the downpayment, you should not make payments for any incomplete work. Schedule additional payments at weekly or monthly intervals or after completion of each phase of the project Again, all of these terms should be spelled out in the contract and clearly understood by both you and the remodeler.
Cancellation Rights— When you sign a home improvement contract in your home and in the presence of a contractor, or contractor's representative, you have three business days in which to change your mind and cancel the contract. The contractor is required to tell you about your cancellation rights and provide you with any cancellation forms. If you cancel, it is recommended that a notice of cancellation be sent to the contractor by telegram or certified mail, return receipt requested.
Lien Protection— For a large remodeling job that involves several subcontractors and a substantial financial commitment, you should protect yourself from liens against your home in the event the primary contractor does not pay the subcontractors or suppliers. You may do this by adding a release-of-lien clause to the contract or by placing your payments in an escrow account until the work is completed.
Warranty Clause— Any warranty offered by the contractor should be in writing and you should read it very carefully. The warranty must state whether it is a "FULL" warranty that gives the consumer certain automatic rights; or a "LIMITED" warranty that limits certain consumer rights. Also, the warranty clause should spell out all terms and conditions in clear language that you can easily understand.
Obtaining A Building Permit
Building codes, established by most cities, towns and counties, may vary considerably from one jurisdiction to another. Your contract should state that the work is to be performed in accordance with all applicable building codes and zoning regulations, in the area where you reside.
Generally, a building permit is required whenever structural work is involved or when the basic living area of a home is to be changed. Separate permits for electrical, heating or plumbing work may be required in some cases. Check with your local department of licensing and permits before the job is started to find out if a building or work permit is required.
If the project does in fact require a building permit, the contractor should apply for it in his/her name. Thus, if the contractor's work does not pass inspection, you can not be held financially responsible for any corrections that must be made. Terms regarding the application of any permits should be outlined in the written contract.
When a government agency issues a permit for home improvement work, it will inspect the work when it has reached a certain stage to make sure it complies with various codes and regulations. It is the responsibility of the contractor to call for these inspections.
Tips To Remember
Make sure you consider the following Do's and Don'ts when initiating a home improvement project and selecting a contractor:
Do verify the name, address, telephone number, credentials and references of the contractor. Make sure that he/she is licensed, insured, and/or bonded.
Do obtain more than one bid for the home improvement project. Do some comparison shopping in choosing the contractor.
Do check with the building and zoning authorities in your area to determine what permits you need to proceed with your project.
Do include all the terms, conditions, warranties, and oral promises concerning the project in a written contract.
Don't sign the agreement until you have completely read and understood all of the provisions.
Don't submit to high pressure sales tactics by a contractor or sales representative.
Don't sign a completion certificate for the job before it has been inspected and properly completed as agreed to in the contract.
Don't pay for the entire job in advance or pay cash to the salesperson or contractor.
Do contact your local or state government consumer affairs office and/or local BBB, if you are unable to resolve a dispute with your contractor.
Copyright, Council of Better Business Bureaus, Inc.
A Better Business Bureau Publication
Supported by Business in the Interest of Consumers
Published by:
Council of Better Business Bureaus Inc.
4200 Wilson Blvd., Arlington VA 22203
Council of Better Business Bureaus offers this copyright publication to the consumer as a public service on behalf of its members. It is not an endorsement of any kind.
Better Business Bureaus are not-for-profit organizations, serving the public interest by promoting ethical business practices in the market-place.